| | |
| --- | --- |
| | In search of my roots |





David J. Olson
Olson Global Communications
202.320.3114

Send Us

E-mail


FRENCH ROOTS




Watch me tracking down my ancestors'
19th century house on French national TV

In 2000, I discovered the village in Alsace, France from where my paternal grandmother's family emigrated to Chicago in 1872. This was the culmination of a genealogical odyssey that began on my first trip to Europe in 1975. My Minnesota grandmother knew only that the family came from Alsace but did not know the precise village. After finding it, I went there in 2002 to look for the house where my family had lived and this was the focus of this episode of France's top-rated TV magazine program Envoye Special. Here's the clip that features my story, part of a longer piece on foreigners coming to France to find their roots. Although I speak French, I was asked to speak English for my interviews here, per Envoye Special's policy that all interviewees speak their mother tongue. This was filmed in Houssen, my ancestral village, and nearby Colmar, the beautiful gem of Alsace. And here's the full version of the report. I appear about 15 minutes in.




SWEDISH ROOTS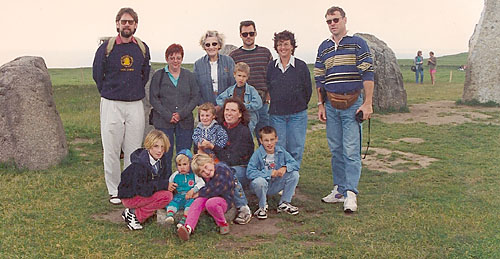 David with his American family and his Swedish family at Ales Stenar, an array of 58 stones overlooking the Baltic Sea that is the Swedish version of Stonehenge.

Minnesota Olson Discovers
Modern-Day Swedish Cousins

My train pulled into the station in Trelleborg, on the southern coast of Sweden, very early on a Saturday morning in June of 1993. I had taken the overnight train from Berlin, sleeping on the train as it crossed the Baltic Sea on a ferry.

As I stepped on the platform of the station, I saw only a woman in her 70s and a younger man who looked like he might be her son. They were looking at me intently and approached to ask if my name was David Olson. When I answered in the affirmative, the younger one said: "We're your family."

Their names were Lilly Erlandsson, 74, and her son, Claes Erlandsson, 39, and they had only found out the night before that they had an American relative coming in on the overnight train from Germany. They had not even known they had an American relative. Claes told me later he was expecting a much older man because he thought only an elderly person would be interested in family history.

The roots of this curious meeting were planted earlier that year, when I hired a Swedish genealogist to trace the Olson family history back in time. I been interested in my Swedish family history since my childhood, but I had gone as far as I could with research in the U.S. and had managed to extract a bit of information from the archives in Sweden by mail. But I knew that I could not make additional progress without going to Sweden and doing the research myself or hiring a professional to do it for me. The genealogist, Nils-Henrik Salomonsson, made remarkable progress and in several months, had gone back several generations on both of my great-great grandparents' sides of the family.

When Nils-Henrik found out I as going to a conference in Germany, he asked me if would be interested in going forward in time, to find some of our modern-day relatives. The idea intrigued me. Southern Sweden was not so far from Berlin and, if he were lucky and found some relatives, I could travel up to Sweden after the conference and meet them. So I commissioned the research and made plans to travel to Sweden.

On the last day of the conference, I called Nils-Henrik to ask if he had made any progress. He said he had and asked if I wanted to be met at the train station. Of course, I said yes but I thought he was talking about himself. So imagine my surprise to find members of my own family meeting me at the train station.

I showed Lilly and Claes how Claes and I were fourth cousins. My great-great grandmother Elna Lassedotter, who immigrated to the United States in 1874, was a sister to Claes' great-great grandfather Anders Lasson. My father and Lily were third cousins.

I ended up staying with Lilly and her husband Sven, neither of whom spoke English, in their house in the village of St. Herrestad, just north of Ystad. Claes, who spoke perfect English, could not accommodate me because of renovations he and his family were making to their house in Ystad.

They were wonderful hosts and treated me like the long lost son I was. Lilly told me later that she vaguely remembers a grandparent once talking about how one of the aunts left Sweden for America many years ago. Well, that aunt was my great-great grandmother Elna!

My family was proud of its province of Skane and showed me all the sights. Except for the presence of the Baltic Sea, Skane bears a vague resemblance to the relatively treeless plains of southwestern Minnesota where the Olsons eventually settled and where I grew up.

We visited Ystad, where Claes and his wife Karin live with their three children. My Olson ancestors are said to have come from Ystad, but they actually lived in several different villages a few miles east of Ystad.

The tourist brochure of Ystad makes the following claim: "No city in Scandinavia and few in all of Europe can boast of such a complete picture of past days as Ystad with its more than 300 half-timbered houses. Yet, it is still very much a living environment today. Shops and dwellings are housed in buildings dating from medieval times up to the present. You can still find your way around the centre of Ystad by following a map from 1753. Even many of the street names are unchanged." Ystad is the largest ferry boat center for southeast Skane with daily connections to Denmark and Poland."

My family took me to see Backakra, the summer retreat of Dag Hammarskjold, Swedish economist and diplomat who became secretary-general of the United Nations in 1953, where Nobel laureates come to relax in the summer.

Perhaps the biggest tourist attraction of Skane is Ales Stenar, the Swedish version of Stonehenge. Ales Stenar, which means Ales Stones, is an array of 58 stones overlooking the Baltic Sea 12 miles east of Ystad which were probably erected in Viking days, perhaps as a monument to a sailor or to mark a burial place.

But the most interesting and moving experiences I had during my stay in Sweden was to the farm and church of my Olson ancestors. Nils-Henrik took me to see the farm near Kabusa where Ola and Elna lived with their three sons just before they left for America. It sits on a sandy plain over-looking the Baltic Sea a few miles east of Ystad. None of the original buildings remain from the time my family lived there. I also visited the Stora Kopinge Church where Ola worked as a sexton, ringing the bells, keeping records and digging graves. It is a lovely 11th century church and undoubtedly looks much like it did when my family lived there.

My Olson ancestors come from a number of villages in the area of southeast Skane east of Ystad -- villages with names like Stora Kopinge, Kabusa, Glemminge, Hammenhog, Borrby and Ingelstorp are all places where my ancestors lived and died.

Three years later, I went back with my wife and two children in the middle of the summer. Our Swedish relatives were more prepared for this visit. One of Claes's brothers, a professional bus driver, had borrowed his bus to give us a day-long tour of the area's attractions. Claes' wife Karin, a professional tour guide, provided live commentary on the area. Lilly, her three sons and all of their families went along with us. We went to a beautiful spot on the Baltic coast for a picnic of smoked fish and cheeses. Then we walked up to Ales Stenar, the Swedish Stonehenge. Later we went to the beach and took a chilly dip in the waters of the Baltic. Neither the numerous Swedes on the beach nor our children (with their Swedish blood) were the least bit deterred by the frigid temperature of the water.

Perhaps the most gratifying experience of my two visits to Sweden was when Claes told me that he had previously had no interest in his family history but, because of my visits, that had changed.