| | |
| --- | --- |
| | My writings & interviews |





David J. Olson
Olson Global Communications
202.320.3114

Send Us

E-mail





My writings & interviews

In 2013, I started writing a monthly global health blog for Global Health TV.

I have contributed more than 25 pieces to The Huffington Post since 2010 on global development issues as diverse as HIV, malaria, cancer, hunger, nutrition, abortion, social media and the G8 and G20 summits. Read them all here.

Since 2011, I have contributed over a dozen pieces on a variety of global health issues to Impatient Optimists, the blog of the Bill & Melinda Gates Foundation.

I'm a big fan of Fast Company and have written two blogs for them.

I was pleased to start writing for the ONE Blog of the ONE Campaign in 2012 on such issues as using technology to talk to Ethiopian university students about HIV and another on on using Brazilian Carnaval to fight HIV.

The American Cancer Society has hired me twice to write reports on their "Meet the Targets" advocacy grants in developing countries, including this final report published in December 2014.

I've written a few times for the Knowledge4Health Blog

Here's my first blog, on drones, schools and sanitary pads, published on the Humanosphere Blog

I published my first blog in The Washington Post on the role of faith in the London Family Planning Summit on July 10, 2012.

I have written several blogs for IntraHealth on such topics as community health workers, task sharing and pediatric HIV in Ethiopia. You can read them here.

The Blog for the Center for Health Market Innovations, Dec. 5, 2011 "Bringing the Avon Lady Philosophy to Rural Ghana"

My article about the increasing trend of operational NGOs to use advocacy to increase their health impact at CSIS Smart Global Health on June 17, 2013.

I have written several blogs for AMREF, 2005 winner of the Gates Award for Global Health, on such topics as community health workers, task shifting, maternal and child health and famine. You can read all of them here.

This blog I wrote at the World Health Assembly for Blog4GlobalHealth, May 20, 2011, attracted a lot of readers: "Is anyone checking up on the food and beverage industry?"

And one of my favorite blogs at Blog4GlobalHealth, Sept. 23, 2010, "What does wine have to do with fighting pneumonia?"

Washington Post (second letter in series), July 1, 2010, "Improving Maternal Health Care"

The Guardian (U.K.) (letter), Aug. 25, 2009, "Markets Have a Role in Delivering Health"

Montevideo American-News (Minnesota), Aug. 20, 2009, "Return to Russia: The High School Trip that Changed My Life"

PSImpact, February 2009,
PSI Working to Scale Up Male Circumcision in Zambia

This was the most poignant story I ever wrote at PSI, about a Ugandan mother who had to choose which of her three sick kids she would save from malaria: PSI Website, Oct. 29, 2008, "New Hope for Malaria Treatment in Uganda"

PSImpact: October 2008, "Harare Diary:
New Life, New Start, New Deal"

PSImpact: December 2005, "Vietnam"
Our Newest Program Follows the PSI Road Less Traveled

New York Times:(letter), September 2005, Letter to the Editor: "Preventing AIDS" (I conceived the idea and drafted the letter for Dr. Saavedra)
What? Condoms Can Prevent AIDS? No Way!

Speech delivered by Ashley Judd at the National Press Club, June 2005

Washington Post (letter), March 24, 2004, My letter to the editor about the role of my parents in World War II:
"Our Values Sacrificed"

Anderson Independent, (South Carolina), March 23, 1986, "Out of Africa," my memoirs of my Peace Corps years.

Christian Science Monitor, August 26, 1985, "An Olson Farms Again," in which I connected my family history with my Peace Corps adventure.

My photo in The New York Times
New York Times, Aug. 25, 2008, "Lifting the Veil on AIDS in a Mexican Prison"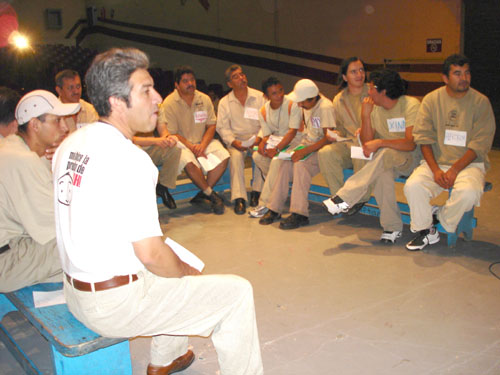 The New York Times published this photo I took of a PSI peer education session in action inside Mexico's largest prison with a story based on the visit.

Interviews with me/Presentations by me

A plenary session I moderated at the Annual Conference of Christian Connections for International Health, June 2013, on "Faith-Based Organizations and the Power of Stories"

G8 Research Group, June 25, 2010, "Civil society continues to express disappointment about G8/G20 Summit arrangements"

Global Health TV gave me a cameo appearance in this curtain-raiser on the 2010 Global Health Conference in Washington, D.C." on June 14, 2010

Global Health TV in London, U.K. interviewed me on Aug. 29, 2009 on the subject of The Impact of Obama on Global Health

2008 International AIDS Conference, Mexico City, Aug. 5, 2008, As moderator of press conference calling for expansion of male circumcision in HIV prevention

I was quoted in Rolling Stone, June 2, 2005, talking about the politics of AIDS "An Epidemic Failure: Whatever happened to Bush's pledge to combat AIDS in Africa?"

Harvard Business School Working Knowledge (website), March 28, 2005, "Ways to Market Social Responsibility"

Envoye Special, France 2 television, 2002, My search for my roots in a small French village was featured on France's most watched TV newsmagazine program.