| | |
| --- | --- |
| | Services I offer |





David J. Olson
Olson Global Communications
202.320.3114

Send Us

E-mail





I can provide the following strategic guidance and services based on my experience on four continents:

Communications:

Strategic communications: Advice on designing communications based on knowledge of the target audiences and applying strategies in highly targeted ways.

Public/external relations: Strategies for reaching more effectively key stakeholder groups that can advance the mission of your organization.

Advocacy/policy: Guidance for engaging government and other policymakers to build support for policies that allow organizations to achieve their missions more effectively which is goal-driven, evidence-based, proactive, targeted, principled and coordinated.

PR strategic planning: Addressing the strengths, weakness, opportunities and threats of an organization's image to develop a plan with specific and measurable goals.

PR/media training: Helping organizations improve their PR strategies and prepare for engagement with all types of media, including social media.

Writing/editing: Seasoned writer and editor whose career began on the copy desk of a daily newspaper in the Midwest.

Moderating events
Program Implementation:
Project management: Rich experience in leading international development programs in developing countries, both creating programs from scratch (which I have done in Mali, Zambia and Paraguay) and building on a well-established global health success story (Bangladesh).

Social marketing: Advise on design and implementation of social marketing programs based on nine years of experience managing projects in developing countries and seven years of speaking and lecturing on social marketing at leading universities.

Organizational strategic planning: Addressing the strengths, weaknesses, opportunities and threats of an organization to develop a plan that help it achieve its mission.

Developing country public relations: Extensive experience in designing and improving public relations strategies through both traditional and social media.

Evaluation: Committed to achieving results in highly measurable ways and ensuring that systems are in place to measure project impact.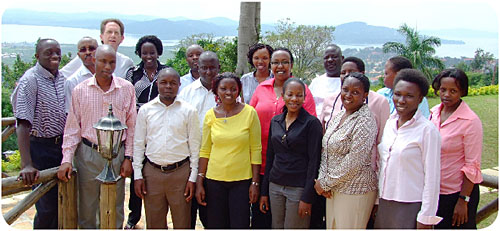 I led a strategic PR planning retreat with PSI Uganda managers at an idyllic hotel overlooking Lake Victoria in 2008.