| | |
| --- | --- |
| | My professional experience |





David J. Olson
Olson Global Communications
202.320.3114

Send Us

E-mail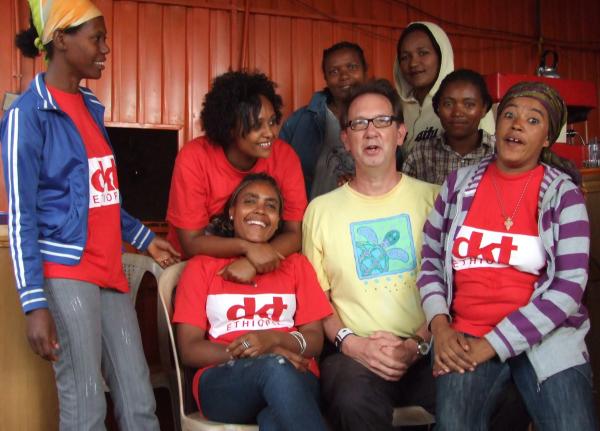 In May 2012, I met these women who had started their own cafe and condom shop in Shashemene, Ethiopia with support from DKT International.


August 2011-present and February-May 2009
Global Development Communications Consultant,
Olson Global Communications
Washington, DC

Provided technical assistance in two broad areas of international development - strategic communications and policy, and program implementation. Current clients are American Cancer Society, DKT International, Global Health TV and the International HIV/AIDS Alliance. Past clients include AMREF USA; Arogya World; Futures Group; IntraHealth; Partnership for Maternal, Newborn and Child Health (WHO); PSI; Results for Development Institute; Save the Children and Vestergaard Frandsen. Registered blogger at Huffington Post and Impatient Optimists (see "My writings and interviews" at left). Active on Twitter with over 2,700 followers @davidjolson.

Member and secretary of the Board of Directors of Christian Connections for International Health.

2009-2011
Director of Policy Communication, Global Health Council
Washington, DC

Responsible for formulating, managing and leading efforts to communicate the policy positions of the Global Health Council, the world's leading global health membership alliance, to key constituencies and to facilitate dialogue on global health issues with and among GHC members. Chaired 230+-member Global Health Communicators Working Group, which helps communications staff of GHC member organizations keep abreast of messaging, media campaigns, technology and other relevant issues and which coordinates communications around key issues. Co-chair of G8/G20 Communicators and Non-Communicable Diseases Communicators. Managed relations with major U.S. and European media. Registered blogger with Huffington Post. Represented GHC and global health community at five G8 and G20 summits in France, Canada, U.S. and Italy; World Health Assembly; AIDS conferences in Rome and Vienna, White House and United Nations. Visiting lecturer in health social marketing at University of Maryland School of Public Health. Presented on global health policy communications at Vanderbilt University and Yale University.

2001-2009
Director of Public Affairs, Population Services International (PSI)
Washington, DC

Led external relations of PSI, a large global health non-profit organization and the largest social marketing organization in the world, through a politically volatile period, winning many new allies and bringing PSI into the global health community.
Click here to see a summary of my 2008 accomplishments in "2008 Public Affairs Year in Review"

Contributed to improved image among PSI stakeholders (a 2009 survey showed that stakeholders' rating of PSI as a good partner more than doubled, from 1.8 in 2006 (on a five-point scale) to 3.8 in January 2009, during the last three years of my tenure.

Revamped Public Affairs Department into more strategic operation - with communications plans with measurable and verifiable communications objectives - targeting PSI's key audiences such as donors, Congress, think tanks and academics by expanding electronic communication and external engagement, and launching PSI's use of social media.

Instituted systems for measuring the impact of these communications efforts on an objective basis.

Pioneered PSI's congressional outreach and advocacy, resulting in many new allies of both political parties, which helped maintain historic 20% annual increases in revenues even in an adverse political environment.

Stimulated media coverage including leading the effort which resulted in PSI winning Fast Company magazine's Social Capitalist Awards for two years running.

Played the leading role in getting Harvard Business School to develop and publish three PSI case studies in two years.

Presented/lectured on social marketing, global health and media at Harvard Business School; London School of Hygiene and Tropical Medicine; Hunter College; University of Maryland; and George Washington, Johns Hopkins, Georgetown and Syracuse universities.

Initiated and achieved collaboration with and support of donor communications staff (USAID, DFID, KfW and Global Fund) to document stories of PSI health impact.

Designed and led strategic communications planning processes of PSI affiliates in Botswana, Cambodia, Madagascar, Malawi, Nigeria, Swaziland, Uganda, Zambia and Zimbabwe and conducted communications workshops in Cambodia, Nigeria, South Africa, the U.K., Vietnam and Zimbabwe (in English) and in Madagascar and at PSI regional retreat for French-speaking West Africa (in French).

Designed and led organizational strategic planning processes in Eritrea (in English) and Mozambique (in Portuguese).

1997-2001
Country Representative, PSI
Asuncion, Paraguay
Founded and developed Paraguay's biggest health non-governmental organization and PSI's most cost-efficient affiliate. Managed portfolio of social marketing projects in adolescent reproductive health and maternal health with annual funding of $1 million (2001). Led development and writing of successful USAID proposal.

1996-1997
Country Representative, PSI
Dhaka, Bangladesh
Served as resident adviser to the Social Marketing Company - the largest private social marketing organization in a single country in the world with 500 employees and annual budget of $4 million (1997) -- and oversaw its successful transition from PSI management to self-management and its certification for direct U.S. government funding. Laid foundation for SMC to make first foray into social franchising, which is now major part of its program. SMC is considered an essential part of one of the world's greatest family planning success stories.

1992-1996
Country Representative, PSI
Lusaka, Zambia
Launched and managed PSI's first successful program in Eastern and Southern Africa and expanded it from HIV to family planning, a program that is now one of PSI's most diverse and successful. Founded the Society of Family Health in 1992, which is now the largest health NGO in Zambia. Used Zambia platform to expand PSI programs into Malawi, Mozambique and Zimbabwe. In 2012, these four countries plus Paraguay accounted for 17.3% of PSI's total health impact. Led the development and writing of two successful USAID proposals (HIV/AIDS and family planning). First PSI country 1) to negotiate and sign a "debt for development swap" deal converting $2 million of Zambia national debt into program funds; 2) to market the female condom and 3) to negotiate and sign a funding agreement with Japanese government.

1991-1992
Team Leader, Evaluation of Arid Lands Information Network (ALIN), Oxfam GB,
U.K., Senegal, Ethiopia, Kenya, Uganda, Mali
As a consultant, led team of four people in comprehensive of evaluation of ALIN - a communications network of development workers in Africa - in the U.K., Senegal, Mali, Burkina Faso, Niger, Ethiopia, Kenya and Uganda. Wrote final evaluation report. In 1993, ALIN became an independent British charity. In 2011, ALIN became the recipient of the $1 million Access to Learning Award from the Bill & Melinda Gates Foundation.

1986-1991
Country Representative, Lutheran World Relief
Bamako, Mali
Launched movement of sustainable development through local NGOs to carry out integrated projects in gardening, water, soil conservation, agro-forestry, animal husbandry, appropriate technologies, health, literacy and management, which is still delivering impact. Here's a link to LWR's web page on the Mali program.

1985
Training Director, U.S. Peace Corps
Cotonou, Benin
As a consultant, directed the overall planning, execution and evaluation of a three-month training program for 15 Peace Corps trainees in agricultural education and teaching of math, physics and English. Supervised staff of 42 in the coordination and integration of language, technical, cultural and health components of the training.

1983-1985
Agricultural Teacher and Extension Volunteer, U.S. Peace Corps
Baguida, Togo
Pioneered a Togolese school's first agriculture program, combining classroom theory with practical fieldwork. Trained students in operation of school garden and raised funds for a gardening cooperative, pig farm and school library. Served as teacher trainer in Peace Corps training programs and editor of Peace Corps Togo newsletter.

1979-1983
Three daily newspapers in South Carolina and North Dakota
Worked in a variety of reporting, editing and management positions involving just about every aspect of editorial work ranging from writing obituaries, editorials, news and feature stories and column to serving as managing editor (one of these was a part-time college internship).