David J. Olson
Olson Global Communications
202.320.3114

Send Us

E-mail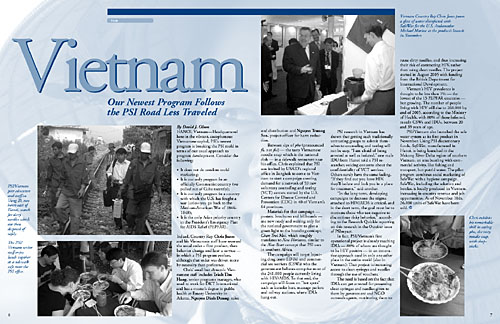 Vietnam
PSI's Newest Program Follows
the Road Less Traveled

By David J. Olson
HANOI, Vietnam - Headquartered here in the vibrant, cacophonous Vietnamese capital, PSI's newest program is breaking the PSI mold in terms of our usual approach to program development. Consider the following:

- It does not do condom social marketing;
- It is our only program in an officially Communist country (we pulled out of Cuba recently);
- It is our only program in a country with which the U.S. has fought a war (unless you go back to the Mexican-American War of 1846-1848);
- It is the only Asian priority country in the President's Emergency Plan for AIDS Relief (PEPFAR).

Indeed, Country Rep Chris Jones and his Vietnamese staff have reversed the usual order - first product, then behavior change and later a service - in which a PSI program evolves, although that order was driven more by necessity than preference.

Chris' small but dynamic Vietnamese staff includes Trinh Thu Hang, senior programs manager, who used to work for DKT International and has a master's degree in public health at Emory University in Atlanta, Nguyen Dinh Dzung, sales and distribution and Nguyen Truong Son, project officer for harm reduction.

Between sips of pho (pronounced fa, not foe) - the tasty Vietnamese noodle soup which is the national dish - in a sidewalk restaurant near his office, Chris explained that PSI was invited by USAID's regional office in Bangkok to come to Vietnam to start a campaign creating demand for a network of 53 new voluntary counseling and testing (VCT) centers started by the U.S. Centers for Disease Control and Prevention (CDC) in 40 of Vietnam's 64 provinces.

Materials for that campaign - posters, brochures and billboards - are now ready and waiting only for the national government to give a green light to the branding concept, Chan Troi Moi, which roughly translates to New Horizons, similar to the New Start concept that PSI uses in southern Africa.

The campaign will target injecting drug users (IDUs) and commercial sex workers (CSWs) who the government believes comprise most of the 241,000 people currently living with HIV/AIDS. To that end, the campaign will focus on "hot spots" such as karaoke bars, massage parlors and railway stations, where IDUs hang out.

PSI research in Vietnam has shown that getting such traditionally untrusting groups to submit themselves to counseling and testing will not be easy. "I am afraid of being arrested as well as isolated," one male IDU from Hanoi told a PSI researcher, voicing concerns about the confidentiality of VCT services. Others surely have the same feeling. "If they find out you have HIV, they will isolate and lock you in a place for treatment," said another.

"In the long term, developing campaigns to decrease the stigma attached to HIV/AIDS is critical, and in the short term, the goal must be to motivate those who test negative to discontinue risky behavior, according to the Research Quickie reporting on this research in the October issue of PSImpact.

In fact, PSI/Vietnam's first operational project is already reaching IDUs - 80% of whom are thought to be HIV positive - in an innovative approach used in only one other place in the entire world (also in Vietnam): That project is increasing access to clean syringes and needles through the use of vouchers.

The need is based on the fact that IDUs can get arrested for possessing clean syringes and needles given to them by government and NGO outreach agents, motivating them to reuse dirty needles, and thus increasing their risk of contracting HIV, rather than using clean needles. The project started in August 2005 with funding from the British Department for International Development.

Vietnam's HIV prevalence is thought to be less than 1% - the lowest of the 15 PEPFAR countries - but growing. The number of people living with HIV will rise to 260,000 by end of 2005, according to the Ministry of Health, with 80% of those infected, mostly CSWs and IDUs, between 20 and 39 years of age.

PSI/Vietnam also launched the safe water system as its first product in November. Using PSI discretionary funds, SafeWat, manufactured in Hanoi, is being launched in the Mekong River Delta region of southern Vietnam, an area bustling with commercial activity, like fishing and transport, but putrid water. The pilot program combines social marketing of SafeWat with a hygiene campaign. SafeWat, including the solution and bottles, is locally produced in Vietnam, increasing in-country revenue and job opportunities. As of November 18th, 26,000 units of SafeWat have been sold.