David J. Olson
Olson Global Communications
202.320.3114

Send Us

E-mail




You are here: My writings & interviews > PSI Working to Scale Up Male Circumcision in Zambia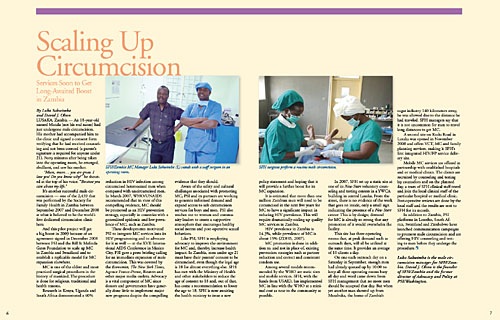 Scaling Up Circumcision

Services Soon to Get Long-Awaited Boost in Zambia

By Luka Sakwimba
and David J. Olson

LUSAKA, Zambia — An 18-year-old named Mutala (not his real name) had just undergone male circumcision. His mother had accompanied him to the clinic and signed a consent form verifying that he had received counseling and not been coerced (a parent's signature is required for anyone under 21). Forty minutes after being taken into the operating room, he emerged, ebullient, and saw his mother.

"Mum, mum… you are great. I love you! Do you know why?" he shouted at the top of his voice. "Because you care about my life."

It's another successful male circumcision — one of the 2,439 that was performed by the Society for Family Health in Zambia between September 2007 and December 2008 at what is believed to be the world's first dedicated circumcision clinic here.

And this pilot project will get a big boost in 2009 because of an agreement signed in December 2008 between PSI and the Bill & Melinda Gates Foundation to scale up MC in Zambia and Swaziland and to establish a replicable model for MC expansion elsewhere. 

MC is one of the oldest and most practiced surgical procedures in the history of mankind. The procedure is done for religious, traditional and health reasons.

Research in Kenya, Uganda and South Africa demonstrated a 60% reduction in HIV infection among circumcised heterosexual men when compared with uncircumcised men. In March 2007, WHO/UNAIDS recommended that in view of this compelling evidence, MC should be promoted as an HIV prevention strategy, especially in countries with a generalized epidemic and low prevalence of MC, such as Zambia.

These developments motivated PSI to integrate MC services into its HIV programming and to advocate for it as well — at the XVII International AIDS Conference in Mexico City, PSI gave a press briefing calling for an immediate expansion of male circumcision. This was covered by the Economist, The New York Times, Agence France-Presse, Reuters and other major media outlets. Advocacy is a vital component of MC since donors and governments have generally done little to implement major new programs despite the compelling evidence that they should.

Aware of the safety and cultural challenges associated with promoting MC, PSI and its partners are working to generate informed demand and expand access to safe circumcision services for boys and men. PSI also reaches out to women and community leaders to create a supportive atmosphere that encourages healthy social norms and post-operative sexual behaviors.

Like PSI, SFH is employing advocacy to improve the environment for MC and, thereby, increase health impact: In Zambia, men under age 21 must have their parents' consent to be circumcised, even though the legal age is 18 for almost everything else. SFH has met with the Ministry of Health and other stakeholders to reduce the age of consent to 18 and, out of that, has come a recommendation to lower the age to 18. SFH is now awaiting the health ministry to issue a new policy statement and hoping that it will provide a further boost for its MC expansion.

It is estimated that more than one million Zambian men will need to be circumcised in the next five years for MC to have a significant impact in reducing HIV prevalence. This will require dramatically scaling up quality MC services in Zambia.

HIV prevalence in Zambia is 14.3%, while prevalence of MC is about 15% (ZDHS, 2007).

MC promotion is done in addition to, and not in place of, existing prevention strategies such as partner reduction and correct and consistent condom use.

Among several models recommended by the WHO are static sites and mobile services. SFH, with the funds from USAID, has implemented MC in line with the WHO at a minimal cost as near to the community as possible.

In 2007, SFH set up a static site at one of its New Start voluntary counseling and testing centers in a YWCA building in central Lusaka. From the street, there is no evidence of the work that goes on inside, only a small sign indicating the presence of a New Start center. This is by design; demand for MC is already so strong that any promotion of it would overwhelm the facility.

This site has three operating rooms that, at peak demand such as outreach days, will all be utilized at the same time. It provides an average of 10 clients a day.

On one such outreach day on a Saturday in September, enough men had already queued up by 10:00 to keep all three operating rooms busy all day and word came down from SFH management that no more men should be accepted that day. But when yet another man showed up from Mazabuka, the home of Zambia's sugar industry 140 kilometers away, he was allowed due to the distance he had traveled. SFH managers say that it is not uncommon for men to travel long distances to get MC.

A second site on Kudu Road in Lusaka was opened in November 2008 and offers VCT, MC and family planning services, making it SFH's first integrated HIV/FP service delivery site.

Mobile MC services are offered in partnership with established hospitals and or medical clinics. The clients are recruited by counseling and testing lay counselors and on the planned day, a team of SFH clinical staff travel and join the local clinical staff of the particular hospital or medical clinic. Post-operative reviews are done by the local staff and the results are sent to SFH for its records.

In addition to Zambia, PSI platforms in Lesotho, South Africa, Swaziland and Zimbabwe have launched communication campaigns to promote male circumcision and are offering HIV counseling and testing to men before they undergo the procedure.

David J. Olson is the founder of SFH/Zambia and the former director of Advocacy and Policy at PSI/Washington.