David J. Olson
Olson Global Communications
202.320.3114

Send Us

E-mail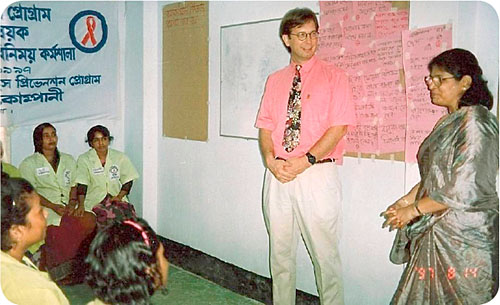 Perveen Rasheed, the former managing director of the Social Marketing Company, and I talk to a group of women working on SMC's first HIV prevention project in 1997.

In 1996, PSI sent me to advise PSI's largest program in the world, and possibly the largest social marketing operation of any kind in the world. Bangladesh had made three significant contributions to the world - microfinance, oral rehydration therapy and social marketing - and PSI had been a big part of the latter two together with our Bangladeshi partner, the non-profit Social Marketing Company (SMC), an organization PSI created in 1973 that continues to have enormous health impact today. Here's SMC's website.

When PSI started in Bangladesh, the organization was very small and such an unknown factor to the U.S. Agency for International Development, our first and major donor in Bangladesh, that it would only advance PSI funds one month at a time. Bangladesh was PSI's first major success, and it put PSI on the global health map for the first time.

Family planning was PSI's original raison d'etre and continues to be the focus of the program. PSI social marketing played a major role in the fertility rate dropping from 6.3 births per woman in 1971-1975 (at the beginning of PSI's work in Bangladesh) to 2.7 in 2007, a dramatic decline in one generation that has rarely, if ever, been achieved elsewhere.

A 1991 external evaluation of the national family planning program stated: "The SMC has been and should continue to be a major contributor to the success achieved in the Bangladesh family planning program. The protection provided by the contraceptives distributed is the success indicator easiest to measure. Less measurable contributions also have contributed to increased prevalence. For example, the impact on prevalence resulting from the SMC generic family planning promotional campaigns (including the only campaigns targeted at males) cannot be measured, but it can be inferred: Significant rises in contraceptive knowledge occurred during the period that SMC was engaged in its extensive and intensive family planning mass media information program, no doubt the largest such effort in Bangladesh experience."

In 1985, PSI's work expanded into oral rehydration therapy (and oral rehydration salts) and, about the time of my arrival in 1996, into HIV prevention Click the link below to read a profile I wrote on the Bangladesh ORS program.

Bangladesh ORS Program (PDF)

SMC now has its own oral rehydration salt manufacturing facility that was built largely with sales revenues accumulated over many years.

When I arrived in Bangladesh, that program brought in a third of all PSI overhead and the largest portion, by far, of our health impact. But USAID, our main donor, had already told us that we had done such an excellent job that we were no longer needed, and I was sent to oversee the transition from PSI management of SMC to USAID direct funding of SMC. I was the last PSI country representative in the country.

This is what I did, and in 1997, SMC was certified to receive direct funding from USAID, and signed a contract for a seven-year project.

Bangladesh was critical to PSI's future expansion both in Asia and in sub-Saharan Africa, and used the significant experience and knowledge it had acquired there to launch many social marketing programs in other parts of the world. And SMC continues to make major contributions to health in Bangladesh and has added several new products since PSI's departure.