David J. Olson
Olson Global Communications
202.320.3114

Send Us

E-mail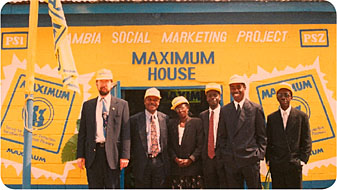 With some of my staff promoting condoms at the 1996 Lusaka Trade Show.

In early 1992, I accepted a position as country representative with Population Services International, a small but rapidly growing non-profit organization that used social marketing to improve health in developing countries, but without a specified country. My first week at PSI, Dick Frank, who at that time had been president of PSI about five years, presented me with a list of about 10 countries where PSI either needed someone or had a good likelihood of getting funding in the very near future. I picked Zambia, mostly based on the fact that it was not French-speaking West Africa (where I had just spent seven years) and because I had the impression that the climate was lovely. My instincts turned out to be sound on both counts.

A few months later, I headed out to Zambia with $10,000 of PSI's money but no donor funding or contract, and with instructions from Dick to create a successful HIV prevention social marketing project. At that time, PSI had no major programs in the whole of eastern and southern Africa. When I arrived in Zambia, I had a loose affiliation with the Pharmaceutical Society of Zambia, which had two employees, a decrepit office and a manual typewriter.

Two months later we signed a multimillion contract with the U.S. Agency for International Development for an HIV prevention condom social marketing project. And two months later, we launched Maximum condoms on World AIDS Day 1992. It was an instant success, responding to the latent demand that existed for a high-quality, low-priced condoms available through a wide variety of traditional and non-traditional outlets, like petrol stations, bars, small grocery stores and just about any place that also stocked cigarettes and soft drinks. Sales took off and continued to climb during the four years I was in Zambia. At the end of 1994, the Zambia Institute of Marketing named me "Marketer of the Year."

In 1995, we were successful in winning additional funding from USAID to add a family planning component with the development of an oral contraceptive brand called SafePlan.

In the last year of my tenure, we added a youth HIV peer education component called New Teen Generation that promoted abstinence, delayed sexual debut and condoms.

I was the first PSI country rep in the world to launch the female condom, which is now marketed by a number of PSI programs. I was also the first PSI country rep ever to secure Japanese government funding for, in our case, a mobile video unit for putting on health "edutainment" shows in rural areas of Zambia.

During my time in Zambia, I capitalized on our Zambia success to get PSI programs started in neighboring countries: In Botswana, I managed media and external relations surrounding the launch of our new condom brand Lovers Plus. In Malawi and Mozambique, I convinced donors to fund PSI start-ups, programs that are now large and well-established. I traveled regularly to Zimbabwe to meet Zimbabwean and USAID officials, which ultimately led to PSI starting a program there in 1996. In 2013, the four programs of Zambia, Malawi, Mozambique and Zimbabwe, plus Paraguay, accounted for almost 19% of PSI's total worldwide health impact. PSI now has programs in every eastern and southern African country from Ethiopia to South Africa. I am proud of the role I played, with my Zambian colleagues, in this early success of PSI, and its legacy that lives on in the form of significant health impact in the region.

In Zambia, there has been progress in both HIV and family planning. The 2007 Zambia Demographic & Health Survey (ZDHS) showed that HIV prevalence for those 15-49 has declined from 15.6% in the 2001-2002 to 13.3% in 2013-14, according to the 2013-14 ZDHS. In 2016, the rate had dropped to 11.6%, according to the Ministry of Health. The contraceptive prevalence rate for modern methods has increased from 8.9% in 1992 -- when I launched the social marketing project -- to 44.8% in 2013-14, a five-fold increase.

There has also been progress among adolescents, with Antenatal Sentinel Surveillance showing a decrease in HIV prevalence from 13.9% in 1994, just before we started New Teen Generation, to 8.5% in 2006, a drop of 39%.

Here is how the Zambia program has grown from my tenure, according to the PSI website.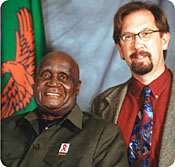 In 2002, I worked with Kenneth Kaunda, the first president of Zambia, on a series of HIV/AIDS public service announcements filmed in Boston, where he was spending a year at Boston University.