David J. Olson
Olson Global Communications
202.320.3114

Send Us

E-mail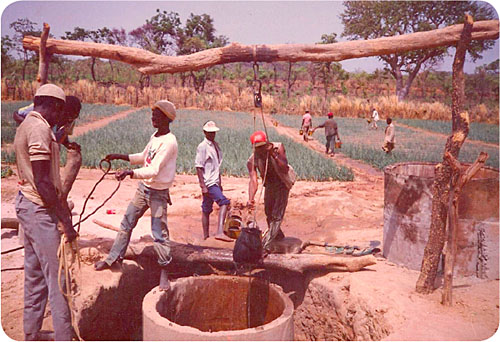 This well and garden in the village of Bancoumana southwest of Bamako is typical of the kind of projects I supported with LWR funds.

For five years starting in 1986, I had the dream international development job. I had not been looking for it, however; the job found me. The assignment was starting up a brand new grass roots development program in Mali for Lutheran World Relief, a small non-governmental organization funded by the U.S. Lutheran churches. My wife and I had already traveled the length and breadth of Mali a couple of years before when I was a Peace Corps volunteer in Togo, and we found the people proud and wonderfully hospitable and the culture as rich as any I had experienced. I had balked when I was offered the job (I had not been looking for an overseas position) but my wife wisely counseled me that if I entertained even the slightest idea of pursuing an international development career, I had to take this job, and that a job offer this good would never pass my way again.

I did, and I have never regretted it. The country, the people and the job were as fabulous as I thought they would be. We lived in a comfortable house in Bamako, much nicer than my modest Peace Corps cement block house. But I was actually more connected to and part of the culture in Mali than I had been as a Peace Corps volunteer. Why? I spoke some Bambara, one of the major languages of Mali; I hardly spoke a word of Ewe, the language of my village in Togo. In Mali, I traveled much more than I ever did in Togo, often staying in the homes of the ordinary people with whom I worked -- a Dogon pastor and his family in Dogon Country, a family of Fulani herders in the Niger River Delta and a Toureg clan living in tents outside Tombouctou, on the edge of the Sahara Desert. When our daughter Emmaline was born in 1990, we had a Malian-style baptism in which Emmaline got a Malian name and we opened up our house to everyone in the neighborhood. I felt like I understood this country and its people in a way I did not in Togo.

And the work was rewarding. My mandate from LWR was to identify Malian nonprofit groups through which we could fund sustainable projects that relied on local resources, a development model very much in synch with my own philosophy. LWR had a model, developed in Niger, of building affordable cement wells to water the gardens surrounded by a live fence to keep out animals and prevent erosion. But they did not impose this model dogmatically, and left it up to people to decide what was in their own best interests. Therefore, we funded various hybrids of this model and a few that were completely different. And one of my favorite projects was a blacksmith cooperative in Dogon Country that supported the manufacture of fuel-efficient stoves and plows to make agriculture more efficient.

Mali also provided me with an unpleasant experience that bolstered my professional credibility - in 1989, I contracted malaria when sleeping in a village near Bamako without a mosquito net. But I didn't come down with the illness - which is endemic in Mali - until I was in Morocco a few days later. It was the single most awful and debilitating health experience of my life. Unlike other illnesses I have had, where I still have an appetite and the desire to read or watch TV, I had no desire to do anything except stare at the ceiling. I had no appetite at all. Little did I know that I would later be working on malaria issues.

I also survived a coup d'etat in Mali. In 1991, Malians were increasingly resisting the autocratic rule of long-time strongman and President Moussa Traore. On March 22 of that year, a huge protest march in central Bamako was put down violently, with estimates of those killed reaching 300. Four days later, a military coup deposed Traore. We witnessed the coup from the roof of our house, watching people looting the homes of known associates of Traore. The masses were very strategically striking homes and businesses of Traore and his associates. I was worried about the loyalties of our landlord and what that might mean for our own security. I knew our landlord owned a gas station a few blocks away. I figured if that gas station had been spared by the mobs, then we would be OK. I went to check it out, and it had not been touched. Thus, we survived the coup of 1991.

Overall, my Mali experience was utterly satisfying and fulfilling but, after five years, I had achieved my objective of working myself out of a job and it was time to move on. I turned the work over to my Malian partner organizations. And many of those relationships continued into the 21st century. In 2004, LWR was still partnering with three of the organizations I had identified during my tenure in Mali.

In 2015, LWR partners with 14 different organizations, all of them community-based except two national NGOs, including Association Malienne Pour la Promotion du Sahel (AMAPROS), a relationship that I initiated. LWR and AMAPROS work together on USAID-funded malaria and livelihood programs.

LWR now focuses all of its efforts in two priority action zones - Mopti and Segou. Most of the partners are also the immediate participants and owners of the programs and number in the hundreds or thousands. The programs range from rice seeds and grain production in Niono and Mopti, shea butter production in San, shallot production in Dogon Country, organic (Koro) and conventional (San) sesame production to fonio production and processing. The organic sesame is for export to Europe.

In November 2010, Norman Barth, who had been the executive director of LWR during my tenure in Mali, passed away. His successor, Kate Wolford, was quoted as saying that Barth led LWR in a shift "from doing the work directly to supporting local and often nascent non-governmental organizations, back when that was considered risky and rare among international aid groups."

I am proud of the LWR program in Mali and of the good work of the partners I was lucky enough to find in those early years of my development career.

Here is how LWR describes their work in Mali nowadays.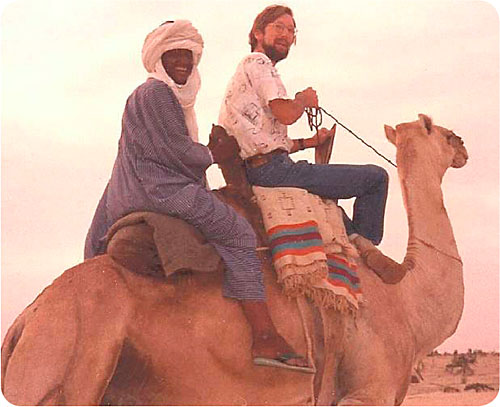 Working on my camel-mounting skills with a Touareg friend just outside of Tombouctu on the edge of the Sahara Desert.