David J. Olson
Olson Global Communications
202.320.3114

Send Us

E-mail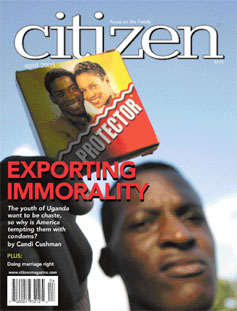 The Politicization of AIDS

THE PROBLEM: Starting in 2003 and intensifying through 2005, PSI came under fire from the political and religious right over our HIV prevention work with vulnerable groups like commercial sex workers, particularly in Central America. Sen. Tom Coburn and Rep. Chris Smith both wrote letters sharply attacking our work and the U.S. government funding of it. Focus on the Family called for an investigation of PSI and featured us on their cover twice in unflattering ways, such as the one above highlighting PSI's condom brand in Uganda. The choice of Central America as a vehicle for attacking PSI was strategic: At the time the letters were written, USAID was in the middle of a bidding process for a five-year HIV prevention project in the region following on from the five-year project that PSI had been managing. The letters resulted in USAID interrupting the process - an action described by people in the global health community as unprecedented political meddling. The new tender seemed to be written in such a way to make it difficult for PSI to win.

THE SOLUTION: PSI, an organization not prone to advocacy up to that point, launched its first serious advocacy campaign to save its Central American program, which had already shown evidence of preventing HIV. I played a major role by leading the following efforts:

I got PSI to join the Global Health Council to take advantage of the Council´s advocacy division and to change our image as lone cowboys. PSI was the only major U.S. NGO working in global health not already a Council member.

I alerted a friend at the London School of Hygiene & Tropical Medicine to misleading statements made by Global AIDS Coordinator Randall Tobias about condoms, which resulted in a letter upbraiding Tobias by Sir Andrew Haines, dean of the London School. I shared the letter with a New York Times editorial writer who used it as the basis for this editorial.

When Congressman Smith attacked PSI in the House International Affairs Committee, Rep. Betty McCollum, a global health leader from my home state of Minnesota, fought back with information I had provided her staff.

At the AIDS conference, PSI gave a briefing on our campaign against cross-generational sex introduced by our Global AIDS Ambassador Ashley Judd. An Associated Press reporter I had invited there wrote a story that was picked up by many of the major U.S. and British newspapers.

In early 2005, I worked with the staff of Rep. Henry Waxman on a letter from six members of Congress to Secretary of State Condeleezza Rice decrying a witchhunt on federal grantees and citing PSI's experience in Central America.

I orchestrated a Wall Street Journal column on the attacks that defended PSI as being market-oriented and results focused.

I gave an interview to Rolling Stone and Salon.com in which I expressed concern about the chilling effect that PEPFAR was having on condoms.

Ashley Judd defended PSI's approach to HIV prevention and described her visit to PSI programs in Madagascar and other places at the National Press Club in a speech that we wrote together.

In August, the New York Times published an op-ed strongly defending our work in Central America and a letter from the head of Mexico's National AIDS Committee that I conceived and drafted.

I worked with Baltimore Sun Reporter David Kohn who did a front-page story on the attacks and the effective HIV prevention work PSI was doing in Central America (see story at right).

In September, I accompanied Central American Representative Michael Holscher in several meetings on Capitol Hill with both Democrats and Republicans.

There were many other actions carried out by myself and colleagues at PSI but I list the ones above - in which I played the leading role - to give a sense of the many elements of the advocacy campaign we undertook to save our Central American program.

THE RESULTS: Just about the time we decided that the fix was in and that we would not win a grant we deserved to win based on our track record and the evidence, USAID notified us that it was awarding PSI $10 million to carry on our targeted HIV prevention program in Central America for another five years. This experience showed us for the first time that advocacy can contribute, in a very concrete way, to health impact if you get the evidence to the right people and the truth emerges.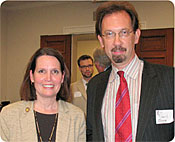 Rep. Betty McCollum, Democrat of Minnesota, is a global health leader with whom I worked to get out the truth about evidence-based HIV prevention.